Isn't it weird how all the big blockbusters these days are superhero movies? But hey, those guys are in pretty good shape, right? Call us crazy, but we think they're on to something.
You should get in on the action with these 3 superhero exercises. 
#1 – The Superman
This move is great for strengthening your upper back, your lower back, and your glutes. There are plenty of exercises out there that focus on core muscles, but a strong core is no good if you don't support it with a strong back. 
To do the Superman, lie down on your belly with your arms and legs spread out in front/behind you. Then, raise your arms and legs all together and hold them in the air. Repeat.
#2 – The Spiderman
This one is basically a crunch wrapped in a pushup. Not only does it work all of your core muscles, it adds an extra workload to your arms and chest.
To do the Spiderman, get down on all fours with your arms and legs straight, feet together, arms shoulder width apart (like the start of a pushup). Then, keeping your arms straight, take your right knee and bring it up to your right hand. Repeat with your left knee/hand.
Like a super-powered pushup, right?
#3 – The Batman
This move adds extra workload to your arms and legs, and it's a nice way to add some variety to your upper back and lower back work.
To do the Batman, start doing the Superman. Then, while your arms and legs are in the air, swing your arms back like a pair of wings. Set down your arms and legs, then repeat.
Home Workout Video
Warm up and cooldown
Remember to do a 5 – 10 min Dynamic warm-up before you start the workout and a 5-10 min cooldown after.
Workout: 20/10 tabatas (work 20 sec, rest 10 sec) for 4 minutes per exercise. Rest 1 min after each circuit.
Superman
Spiderman
Batman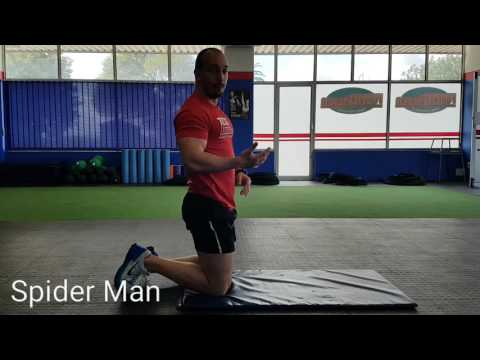 Call or email today to get started on a fitness program that will have you seeing results or your money back. Register today for our 28 Day FSPT Academy Program and we will get you started on the exercise program that completely transforms your body
GREATEST VICTORIES ARE BORN IN THE HEART
Kevin Anderson – Owner of ForeverStrong
P.S. – If you enjoyed this post please share it with your friends using the social media buttons below.
P.P.S. – Please ask a question or share a comment with us in the Leave a Comment section at the very bottom of the page.  We love your feedback and will use it to develop future blog posts.